Vote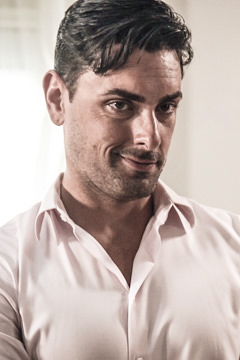 Ryan Driller
Girls Way profile
Height : 6'1"
weight : 200
Hair Color : Brown
zodiac : Leo
hobbies : Cycling, Hiking, Camping, Cooking, Swimming, SCUBA
date of birth : 1982-08-17
best known for : Being debonair
twitter : https://twitter.com/ryandriller
Favorite Body Part : Legs
Ryan Driller's Biography :
Ryan Driller was born and raised in Littleton, Colorado. Driller also lived in Key West, Florida for seven years.
Growing up in a conservative household and town tempered Driller's promiscuity to a degree. He broke up with a devout Christian girlfriend in High School, "because things were getting too physical. She was seeking attention because her parents were divorcing. After that, I started playing the field."
Driller was 12 years old when his parents divorced. "They didn't get along and needed to split. They picked on each other, pushed each other's buttons and fought all the time. Given their upbringings, I'm sure they never cheated. After they split, both parents attended our school events, soccer games, gymnastics and swim meets. We had two houses that were much happier than before. Neither of them talked shit about the other."
Driller' parents know about this career, "My mom is ok with it, but my dad is not. He grew up in a very Catholic household. They both wish I was a real Hollywood actor so they could share openly with their friends and extended family. My mom asked to come to AVN one year but I shot that down. They know I don't make poor choices, so going into porn made them question their own beliefs surrounding the industry."
Driller lost his virginity "At my girlfriend's house (I had 3 at the time) after a swim team banquet, we were doing the usual make-out thing, but just kept going, until I was in her, while still in my tuxedo, with Power Puff Girls on the TV in the background."
Driller recounts the wildest sexual encounters he's subsequently experienced. "At a Foam Party, after spending the summer on a remote island. My friend grabbed a girl's ass then took off. When she whipped around ready to kick his ass, I apologized and told her she was hot. Ten minutes later, leaning up against the DJ booth on the dance floor, I was fucking her in the crowd."
"After a night at the Flying Monkey bar in Key West partying with about 50 friends, I went home with a girl and her group. I didn't realize until later was a bachelorette party. We all had fun partying, and I became their private entertainment."
"I was working as the Promotions Coordinator for a radio station. After working a grueling day at an Art Festival in the 100-degree heat, I met up with friends at the bar, abstaining because of heat exhaustion and dehydration. I was set up with a girl who was another buddy's ex. Totally sober, we were dancing, and getting closer. The chemistry between us was so intense that my buddy said he would have to join us. He was worried it would be weird, but I assured him that threesomes trump any bro-code. The three of us continued to dance. The bartenders were getting agitated because the bar was empty and everyone was dancing and grinding on each other. At 2 AM closing time, security locked the doors and let the orgy happen.
Driller recounts his wildest non-sexual encounters, "When I was 9 years old, all of us kids in the neighborhood were playing in the snow after a blizzard. The snow-pack in the middle of the street was perfect for sledding. I was cruising down the middle of the street. My block was shaped like a horseshoe. As I sled around the 2nd bend, a UPS truck was coming straight at me. I went right underneath, down the middle of the truck, totally unscathed."
"Coming off a snorkel boat in 2001, I was wading through water to the shore with 53 other people, when a 2-foot Tarpon fish jumped out of the water, a few feet in the air, and a 12-foot Hammer Head Shark burst through the water behind him, caught the Tarpon. We were 25 yards from the docks at that point, and we ran like hell.
"Also in 2001, while MTV was shooting Summer in the Keys, I may have unknowingly skinny dipped with Shakira before she exploded in the US."
Driller got his start in the business after a painful breakup, "A few of my conquests told me I should be doing that on film. I took it as a sign. I buckled down and applied to Craigslist ads and websites I frequented, and eventually made my way to LA. My first scene was an American Bukkake shoot with Jim Powers and PornoDan. They brought me back for Fuck a Fan and then introduced me to other producers and companies. Working on one of these sets (Freaks of Porn, my scene partner had a Vagina Mouth), I met Axel Braun's Production Manager, and she got me my shot at Superman, and sent me out for the Playboy owned ClubJenna sites."
If he were stuck on a deserted island, Driller would want a woman, a bottle that never goes dry, and a SiriusXM radio that can never die. "But for survival, I would only need my pocket tool. With it, I can fashion a dew and fresh water collection system using leaves and bushes. I can cut debris and rope/line that has floated up on shore, or strip lengths of branches and leaves to create a make-shift rope, to help lash together the branches, debris and trees to create a shelter. I can whittle down sticks to create a friction starting fire tool. I can make tools for hunting and fishing."
Among Driller's favorite books is The Shining by Stephen King. "I love that he wrote it while staying at the Stanley Hotel in Estes Park, Colorado. The TV miniseries with Rebecca De Mornay is almost the book verbatim, and was shot in the Stanley Hotel." Inferno by Dan Brown is another favorite, for its interesting and thought-provoking take on the planet's over population. "Don't waste your time with the movie if you want to know why I love the book so much." His third favorite read is by Tucker Max.
His top preoccupations in life when not filming on set, are his dogs, health, and family.
Driller has been arrested for discharging a BB in Boulder County, and a DUI in San Diego in 2010. "I had 1 beverage, waited an hour, had another, waited an hour, had another, then waited 3 hours before getting in my car. I was pulled over for using my phone to find the directions back to my friend's house. I blew a .08. I tell everyone, 1 beverage is a DUI. I was lucky and my sentence was reduced to a "wet reckless". I only had to show up to AA meetings and the program classes. I didn't have any community service, or a breathalyzer installed into my car (now a mandate in CA from what I've heard). My fines and fees were relatively low (I made out with less than $5K). But, I know that was an anomaly, and that I was super lucky."
Driller's been caught having sex in more places than he can count, "with people I wasn't supposed to be, including my buddies' exes and my boss. I was caught having sex with one of my employees on one of my sailboats, after another employee reported us to Florida Fish and Wildlife. I've been caught exploring various substances you're not supposed to partake in."