Vote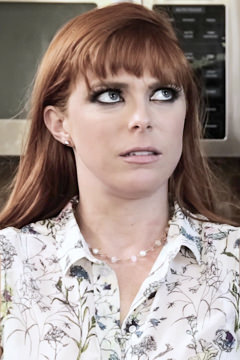 Penny Pax
Girls Way profile
Height : 5'0"
weight : 120
bust : 34D
Hair Color : Red
zodiac : Aquarius
hobbies : Hiking with my two dogs Dinah & Lucy, movies, making porno
date of birth : 1989-02-18
best known for : No limits
twitter : https://twitter.com/pennypax
Favorite Body Part : My big natural boobs
Penny Pax's Biography :
The industry's favorite redhead, Penny Pax was born in Miami, Florida. She moved to California, Hawaii and New Zealand, then lived in Florida for ten years before moving back to California in 2011 to join the adult industry. She currently resides in Los Angeles. Pax does not come from a religious background.
A prude with the boys until age 18, Pax played doctor and "Hide the Penny" with her girlfriends. "We had been messing around for a while doing everything but the actual deed. One day I decided I wanted to see what all the fuss was about and popped my cherry with him one day."
Once she lost her virginity, Pax "pretty much wanted to try all the dicks. I probably banged 35+ dudes before porn."
Her three wildest sexual encounters involve banging a cop on duty in his car, banging on the beach on a chair at night with people walking by and watching, getting creampied in a movie theater in spoon position."
Her three wildest non-sexual encounters include cave diving in New Zealand, skiing in Valloire, France, and snorkeling with sharks and stingrays in Grand Cayman.
Her biggest fear is poisonous insects or animals.
The three things Pax would want if trapped on a deserted island are her two dogs to protect and love her, and a machete to chop wood or start a fire.
Prior to her career in the adult industry, Pax wanted to protect and serve as a police officer. After undergoing training in South Florida, Pax had trouble getting hired as a cop, so she returned to her went for an earlier dream of wanting to be in the entertainment business.
"I joined a modeling website. After doing some trade photo shoots I posted them on the site. Soon after, I was contacted by an agent in Florida to see if I was interested in adult work. I thought it was difficult to join the porn industry so I jumped at the opportunity. I did my first Boy-Girl scene in Miami and impressed myself with how easy it was to perform on camera. And after that I never looked back!"
Her three favorite books of all time are The Grapes of Wrath, Brothers Grimm Fairy tales, and Harry Potter.
Her favorite movie is Moulin Rouge "Because the greatest thing you'll ever learn is just to love and be loved in return."
Pax is a huge fan of horror movies, "I love all the special tricks and the gore that their makeup/effects team is able to make look so real!"
Pax prefers being on top when filming on set, because it puts her in control in and "that makes it way easier to cum! Piledriver is always fun too because it opens your holes so much."
Outside of adult conventions Pax isn't recognized much. "I don't wear makeup or slutty porn clothes everyday so I don't think I look the same on camera. The last time I was noticed was at Disneyland and I absolutely love it! I always like meeting fans and taking pictures!"
Pax is open with her family about her porn career. "My mom knows. At first wasn't accepting because she thought she did something wrong raising me. But eventually she came around, seeing how happy I was not working in an office and being able to support myself."
Pax has never been arrested, "although I got a speeding ticket once."
The only time she's ever been caught doing something taboo is on camera filming her porn movies.
Her top preoccupations in life when she's not filming on set are shooting more porn PennyPaxLive.com, hiking with her dogs, and Disneyland.