Vote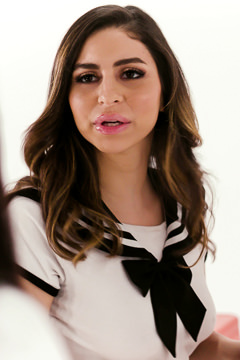 Nina North
Girls Way profile
Height : 5'2"
weight : 110
Hair Color : Brown
Eye Color : Brown
zodiac : Pisces
hobbies : traveling, writing, hiking, music, fashion, online blogging
date of birth : 1996-03-05
twitter : https://twitter.com/xninanorthx
Nina North's Biography :
Nina North was born in Durham, North Carolina. She describes it as "peaceful, pretty, quiet and homey". She did not come from a religious background and was pretty wild as a teen saying that she was a bit promiscuous and had a knack for getting herself into some pretty unique situations. Describing her three wildest non-sexual encounters she recalls a time in high school her best friend and Nina went on vacation with her family and ended up sneaking out of the hotel room with some boys. They stayed out with them all night and got into big trouble when they tried to sneak back in. On a vacation in Key West, she swam in the ocean in the middle of the night for almost 3 hours completely forgetting about the huge shark problem in Florida. She went to a fetish factory event in FT Lauderdale one time and used some poor guy as her slave all night at a party. Before porn, she wanted to be an interior designer living and designing luxury homes in Miami. She got her start in the business because her best friend at the time went to middle school with a girl who was in the industry. Their friend, Alex Grey, asked her to come to LA to meet an agent and maybe do some shoots. Her friend didn't want to go alone so she asked her to come along. She came to LA to shoot and immediately started with solo, BG, and GG and ended up loving it and making a career out of it. One of her favorite movies is Knock Knock with Keanu Reeves. She loves it because it's so wild and sexy. She describes the threesome scene as one of the hottest movie sex scenes she's ever seen. She's also a fan of the horror/thriller genre. Ever since she was a little girl she loved scary movies and the adrenaline she got from being scared shitless. Her three top preoccupations in life when not on set are her Boyfriend (sorry boys), her pets which she adores with all her heart and traveling as much and as far as she can. She describes her experience shooting for pure taboo as "simply awesome!" She loved working with the Girlsway/Pretty dirty/Pure taboo crew. She considers Pure Taboo to be her favorite because she's a big fan of what she describes as "crazy, fucked-up, wild scenarios". She doesn't think the nature of the PT scenes will have a major effect on society or its viewers. She believes the viewers will enjoy the high creativity and uniqueness and get off but not try to recreate scenes in their personal sex lives.