Pornstar Info
Vote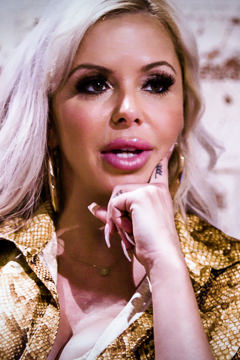 Videos with Nina Elle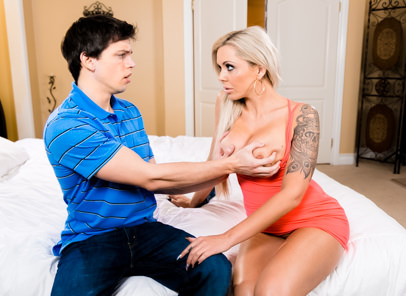 Date added:
04/07/2017
Rating:
Comments:
3
Description :
Just after Alex D's girlfriend Jill asks him to keep an eye out for her missing panties that match her turquoise bra, Jill's MILF mom Nina Elle finds a pair of turquoise thong panties under her husband's pillow. Nina freaks out jumping to the conclusion that he's cheating on her with an ex girlfriend. She tries calling Jill but can only reach Alex who offers to come over instead.

Alex sits on the bed beside Nina as she inconsolably confides her husband's betrayal. Alex recognizes Jill's matching underwear but doesn't mention they belong to her daughter. Instead, he lets his girlfriend's hot mom blather on angrily about her husband and everything she's done in vain to keep him faithful. The fake tits, the tan lines, the blow jobs, none of it was enough to stop him from cheating.

Nina is so distraught and vengeful she pulls her huge tits out of her hot pink dress and shows them off to Alex. Wanting consolation, she invites him to touch them, telling him Jill doesn't have to know. Alex does not refuse the MILF, especially not when she offers him a blow job.

Deepthroating Alex's cock has Nina feeling well enough to strip naked and fuck him. She turns around and rides him reverse cowgirl, her pussy sopping wet from cumming. He lifts up her leg while he spoons her sideways. Then he fucks her deeply from behind till he cums in her mouth!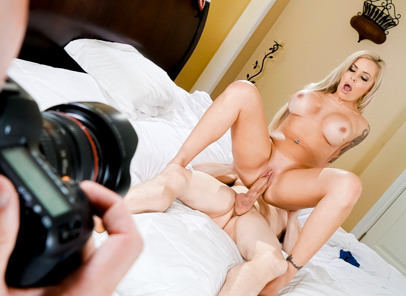 Date added:
04/07/2017
Rating:
Comments:
0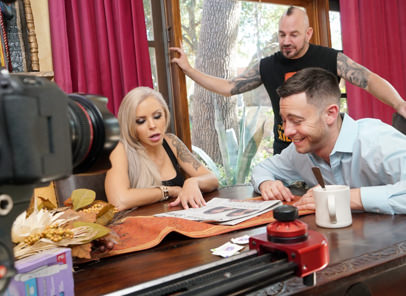 Date added:
07/26/2016
Rating:
Comments:
1
Categories :
Step Dad
,
Blonde
,
Brunette
,
Piercings
,
Big Tits
,
Natural Tits
,
Small Tits
,
Teen
,
MILF & Mature
,
Tattoos
,
Behind the Scenes
,
Step Mom
,
Family Roleplay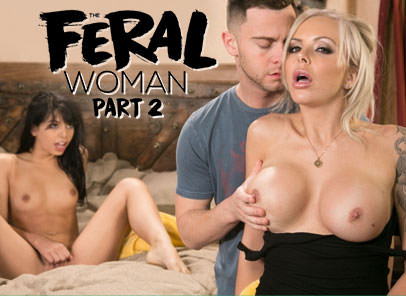 Date added:
07/24/2016
Rating:
Comments:
4
Description :
Nina Elle bathes her feral foster daughter Gina Valentina unaware of the sex-capade Gina had with her husband Seth Gamble just hours ago. Gina's sex drive continues to grow as she attempts to suckle on Nina's massive boobs, determined to get her mouth filled with those big tits. Nina plays off Gina's feral advances but Gina goes into a sexual craze kissing Nina's neck and licking her mother's nipples vigorously. Seth walks in on the two, overcome by the lesbian sight but Nina calms him down suggesting they should all bond together and make this family sexually complete. Gina jumps on the bed with sexual excitement tapping her throbbing pussy. They take turns sucking and fucking Seth's hard cock in a ravenous threesome and delectable pussy eating extravaganza topped off with a mouthful of hot jizz for the couple's horny sex maniac daughter!
Categories :
Step Dad
,
Blonde
,
Brunette
,
Big Tits
,
Girl on Girl
,
Threesome
,
Small Tits
,
Teen
,
MILF & Mature
,
Tattoos
,
Older / Younger
,
Pussy Licking
,
Facesitting
,
Step Mom
,
Family Roleplay
,
Facial
,
Blowjob
,
Cumshot
,
Big Dick
,
Ass
,
Lesbian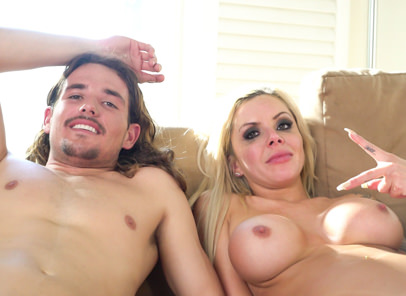 Date added:
04/26/2016
Rating:
Comments:
1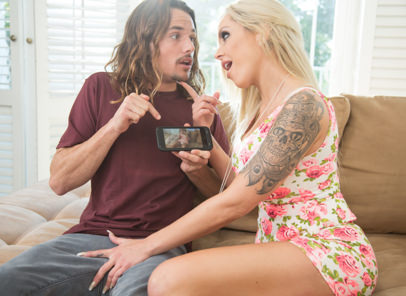 Date added:
04/24/2016
Rating:
Comments:
2
Description :
Cheating housewife Nina Elle sneaks outside to talk to her secret lover on the phone and whispers quietly not to wake up her step son Tyler Nixon who is sleeping in the house. With the outside noise being too loud for her to hear, she takes the chance of going back in the house to continue her cell phone sex-capades. She sits on the couch and spreads her legs, touching her soft pussy in between her panties as she gets riled up sexually, anxious to fuck her lover's big cock this weekend. Nina's horniness gets the better of her and Tyler hears her moaning from afar and takes out his phone to record his step mother in the act. Finally he has enough proof to kick her to the curb once and for all.

Tyler jumps out of nowhere scaring the hell out of Nina and calls her out on her adulterous actions. She denies everything and claims Tyler has no proof that she did anything wrong. But Tyler is smart and backs up his evidence before Nina tries to erase the incriminating proof. She becomes helpless, knowing she's caught in a corner she can't get out of and in desperation, she tries to coax Tyler into fucking her for his silence. Tyler doesn't fall for her slutty tricks and refuses to engage in any sexual activity with his mom but she busts out her massive tits and begs Tyler to touch them making him completely vulnerable like a dog in heat.

Tyler drops on his knees motor boating Nina's huge tits and pinches her pink nipples as she demands that he calls her mommy and has him swear she won't say a peep to her husband. At this point Tyler is blinded by Nina's milfy sex drive with his stiff erection bursting out of his jeans. She takes a hold of his cock and strokes it with her hands and mouth, gagging on his shaft as he idolizes her soft, plump ass. They 69 as Tyler tongue fucks Nina's pussy while she continues to gag and worship his cock until she sits on his cock and rides his boner enthusiastically. Her inner thighs slam Tyler's cock as she reverses herself and rides his baloney pony until his groin cannot resist her tight pussy and explodes his hot jizz over her face!
Categories :
Blonde
,
Piercings
,
Big Tits
,
Hardcore
,
MILF & Mature
,
69
,
Tattoos
,
Older / Younger
,
Pussy Licking
,
Facesitting
,
Step Mom
,
Family Roleplay
,
Pussy to mouth
,
Blowjob
,
Deepthroat
,
Cumshot
,
Open Mouth Facial
,
Titty Fuck
,
Big Dick
,
Ass
,
Tits Cumshots

Pictures with Nina Elle

Rating:
Comments:
1
Date added:
04/07/2017

Rating:
Comments:
0
Date added:
07/24/2016

Rating:
Comments:
0
Date added:
04/24/2016