Pornstar Info
Vote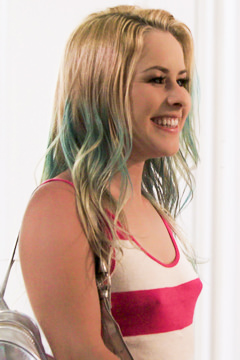 Videos with Lilly Lit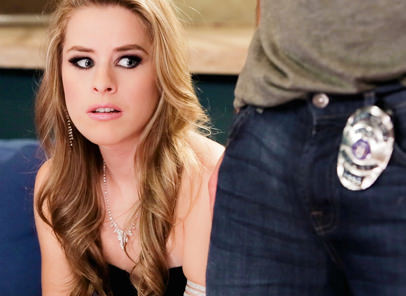 Date added:
04/28/2017
Rating:
Comments:
8
Description :
Officer Johnny Castle is a bad cop with a hankering for teenage whores. Tonight, a lowlife informant is doing Johnny's dirty work searching for a working girl. When he spots Lilly Ford hooking outside a cheap motel, he tells Johnny to get ready to rendezvous. Johnny stays on the line till she says the magic words 'full service' then drives his patrol car to the informant's apartment. Meanwhile, Lilly gets inside the sedan and heads off with her john. The decoy informant makes himself scarce as soon they get to his pad. That's when Johnny comes out of the woodwork and busts her for hooking.

Lilly understands what happens if she gets caught. She bats her lashes and tries to talk her way out of an arrest. But Johnny's not looking to put her in jail. He wants to make her an offer she'd be stupid to refuse. And now that he has the 18 year old hooker right where he wants her, he shoves her face in his crotch and tells her to suck his cock.

At first, Lilly stands up to the bad cop for not behaving up to code. But Johnny makes it clear, no one is taking the high road tonight. Again, Johnny gives her the choice, either do it the easy way or the hard way. Lilly is afraid to go to jail. Even though he makes no promise of letting her off the hook, she takes her chances servicing him.

She sucks his huge dick, then he gets up from the couch to face fuck her mouth till his cock is ready to blow. He bends her over and smacks her little teen ass. He hikes up her dress and pulls aside her panties. Then he rims her asshole and sucks on her pussy. As he prepares to plunge his dick into her pussy from behind, she begs him to be gentle, but he fucks her hard to assert who's in charge.

Officer Johnny works tirelessly on improving the teen's compliance by making her submit to his raunchy commands. Sitting on his lap and facing his feet she obediently fucks him till her swollen clit explodes in an orgasm. He grabs her ass as she fucks him in cowgirl. She's in middle of cumming when he pulls out to sideload her pussy extra deep. Then he ploughs her meaty pussy till he cums all over her face. Does Johnny think Lilly learned her lesson? Click to find out.
Categories :
Blonde
,
Hardcore
,
Natural Tits
,
Small Tits
,
Teen
,
Petite
,
Blowjob
,
Deepthroat
,
Big Dick
,
open mouth facial
,
pussy eating

Pictures with Lilly Lit

Rating:
Comments:
1
Date added:
04/28/2017

Rating:
Comments:
0
Date added:
04/28/2017