Pornstar Info
Vote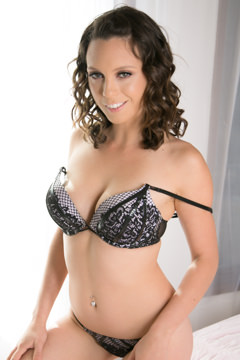 Videos with Jade Nile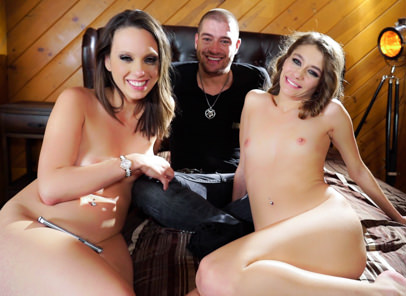 Date added:
06/07/2016
Rating:
Comments:
0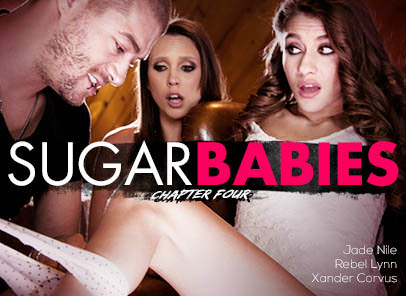 Date added:
06/03/2016
Rating:
Comments:
7
Description :
Previously, we met Rebel Wilson, Jade Nile's younger step-sister. Rebel's favorite rock star has always been Xander Corvus, and if you ask any of her teenage friends they tell you that Rebel has always lusted to meet Xander. Well, Jade knows that her life as a sugar baby must be discreet, so she finally told Rebel that she has been travelling and dating Xander herself. The awestruck teen begs her older step-sister to introduce them, and Jade has a grand lesbian time initiating her lesbian virgin sister before they meet the idol Rebel has always wanted to know.

Jade and Rebel approach one of Xander's many luxurious apartments. It's clear Rebel is excited and nervous, hardly able to make the decision to support her frail young body as she climbs the stairs to his rock star pad. Rebel is clearly nervous, but Jade assures her that amazing guys will want to take her all over the world after she becomes a sugar baby, and does exactly what they want. Xander pulls up in his sports car ready to get to work fucking his chicks.

Immediately, his asshole charm exudes through his attitude, and Rebel is sure to get what she wants before Xander can go further. Rebel feels like she's in heaven when Xander rips her panties off of her tiny teen body. he immediately starts stroking her pussy, and teasing her. Xander shoves his fingers inside her accompanied by her bittersweet moaning. he kisses her sweet young pussy, and gives her her sister's tit to suck. Xander is pleased with Jade's conquest.

Xander stands Rebel up and strips her dress off her, eager to taste her young virgin pussy again. he shows Rebel sides of sexuality she was never expecting, almost too rough for her to deal with. With Jade on the sidelines to reassure her she'll be just fine, and to show her how sexy Xander's rough sex can be. Jade gags on Xander's erect cock, letting her spit slide off it, showing how much she wants him inside her sister. Rebel needs to take it slow, clearly traumatized by Xander's rough attitude. But Xander wants her sweet tight little virgin hole wrapped around his slick, fully hard cock. Jade reassures her traumatized young sister that they are exactly where they should be, and Rebel soon warms up to the idea of having Xander's monster cock filling the recesses of her little virgin hole. She still cries in pain.
Categories :
Brunette
,
Hardcore
,
Threesome
,
Natural Tits
,
Small Tits
,
Fingering
,
Teen
,
Hairy
,
Family Roleplay
,
Stepsister
,
Pussy to mouth
,
Blowjob
,
Deepthroat
,
Big Dick
,
open mouth facial
,
pussy eating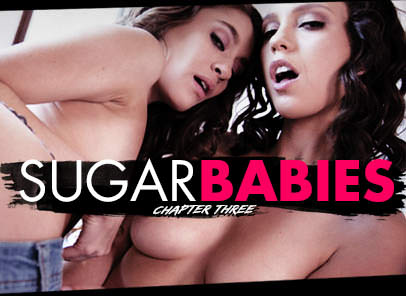 Date added:
05/20/2016
Rating:
Comments:
3
Description :
Previously on Sugar babies we saw Jesse get revenge for his girlfriend penny's disgusting slutty ways with Jaclyn Taylor. Penny begged that her lesson was learned and that she'd never do it again! I'm left wondering if Penny is done with her friend Jade's game, or will she be back for a second helping?

Jade is at home hanging with her little sister Rebel. Jade is in the middle of a texting fiasco with Xander over the virgin he wants her to bring. she has to make a big choice, whether to keep her secret life as a sugar baby a secret from her virgin sister, Rebel, or to expose that she's been fucking with Rebel's rock idol, Xander, behind her back, all in order to invite her along for a ride on her favorite idol's famous big stiff cock. Rebel is pissed she didn't tell her sooner, but understands the secrecy. Rebel can't wait to show up and have her first ever sexual experience with her one true idol, she proves it by kissing her stepsister, and stripping to take pictures for Xander to approve.

Jade inches closer and closer to her innocent virgin step-sister, and through her body language begs Rebel to go further and further, all for the sake of eventually getting to meet her hero Xander. Rebel isn't sure what to do, or how to act, but Jade is sure to help her find her way. Jade leans in and promises to show Rebel how it's done. she takes off Rebels' shorts and leans her back against the bed, allowing her to spread her legs to be given her first ever orgasm with anyone else. Jade quickly brings Rebel to orgasm.

In order to ensure that Rebel is prepared for the night, Jade makes Rebel show her what she's learned, and if she does well Jade will help her level up with a new lesson in lesbian tribbing. Will it be Xander who's surprised by his new virgin's lesbian abilities, or will it be Rebel who will be surprised with Xander's crazy entourage of rough sexual vices.
Categories :
Brunette
,
Girl on Girl
,
Hardcore
,
Natural Tits
,
Small Tits
,
Teen
,
College
,
Tattoos
,
Hairy
,
Family Roleplay
,
Tribbing
,
Stepsister
,
Lesbian
,
pussy eating

Pictures with Jade Nile

Rating:
Comments:
1
Date added:
06/03/2016

Rating:
Comments:
0
Date added:
05/20/2016

Rating:
Comments:
0
Date added:
05/20/2016