Pornstar Info
Vote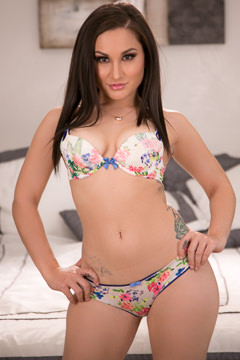 Videos with Gabi Paltrova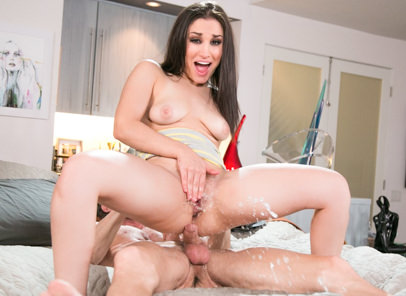 Date added:
11/30/2016
Rating:
Comments:
1
Description :
Devoted husband Ryan McLane wonders what's up with his wife Gabi Paltrova. She seems quieter than usual, and refuses to eat her tacos at dinner. Assuming she's dieting to try to lose weight, he decides to prove that he loves her body just the way it is.
He brings her to bedroom to have sex, but their bed is soaking wet. And he can't understand why, until Gabi asks him to make her cum, so she can show him a new trick she's been practicing with her pussy. Lying in bed, she lifts her dress and places his fingers ever so slightly inside her pussy. After a minute of massage, a stream of liquid squirts from her pussy. He watches in amazement, while she juices and cums, begging him to rub her clit. Her pussy gushes like a faucet onto the bed, filling Ryan with pride for his wife's squirting pussy. She rewards him with a blowjob, before letting him fuck her and squirting on his cock. Whatever's gotten into her, Ryan loves the new Gabi, and leaves a cum deposit on her face.
Categories :
Brunette
,
Hardcore
,
Masturbation
,
Natural Tits
,
Fingering
,
College
,
Tattoos
,
Squirting
,
Pussy Licking
,
Facial
,
Pussy to mouth
,
Blowjob
,
Deepthroat
,
Cumshot
,
Open Mouth Facial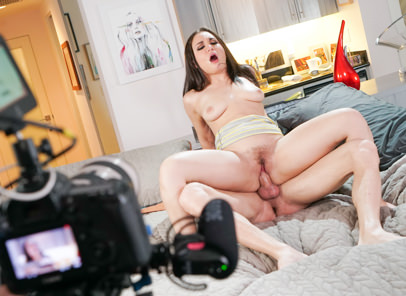 Date added:
11/30/2016
Rating:
Comments:
0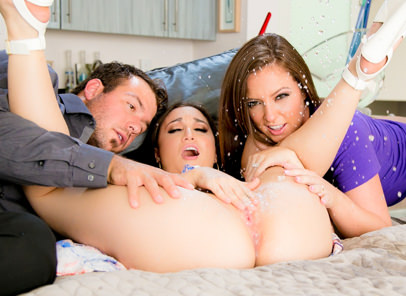 Date added:
11/11/2016
Rating:
Comments:
1
Description :
When newlywed Gabi Paltrova confides that her husband never made her orgasm, sister-in-law Maddy O'Reilly tells her she needs to experience a proper G-spot orgasm, if she wants her marriage to work. Maddy helps her sister-in-law locate the elusive G-spot, lifting Gabi's dress and showing her where to touch herself down there, and how to slowly rock her hands back and forth. Gabi feels weird rubbing her naked pussy in front of her sister-in-law, so Maddy strips from the waist down, and starts masturbating too. After a minute of self-massage, liquid shoots from Gabi's pussy through the air, onto the coffee table. Gabi's trying to cope with the shock and surprise of her first squirt, when the doorbell rings. Apparently, Maddy invited G-spot specialist Chad White to teach Gabi how to squirt. Gabi is reluctant to cheat on her husband, especially in such a vulgar threesome, with his sister and another guy. But Maddy convinces Gabi she'll be saving her marriage. Chad and Maddy lay on either side of Gabi, caressing her legs, slowly approaching Gabi's squirting pussy. Gabi moans while Chad rubs her vulva and circles her clit. He expertly fingers her pussy, filling her glands with liquid squirt. Then Maddy joins in, making Gabi cum in her mouth, while Chad fucks the juice from her pussy!
Categories :
Brunette
,
Redhead
,
Hardcore
,
Threesome
,
Masturbation
,
Natural Tits
,
Fingering
,
Squirting
,
Hairy
,
Sister In Law
,
Family Roleplay
,
Pussy to mouth
,
Blowjob
,
Deepthroat
,
Open Mouth Facial
,
Big Dick
,
Ass

Pictures with Gabi Paltrova

Rating:
Comments:
0
Date added:
11/30/2016

Rating:
Comments:
0
Date added:
11/11/2016

Rating:
Comments:
0
Date added:
11/11/2016