Vote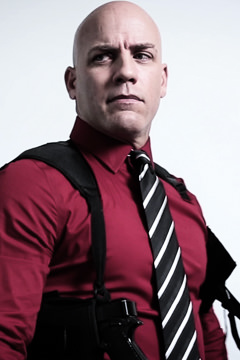 Derrick Pierce
Girls Way profile
Height : 6'0"
weight : 216
Eye Color : Blue
zodiac : Pisces
hobbies : Gear head, fitness enthusiast, MMA, shopping
date of birth : 1974-03-01
best known for : Acting/bdsm
twitter : https://twitter.com/thedpierce
Derrick Pierce's Biography :
Derrick Pierce was born in Springfield, Massachusetts on March 1, 1974. He grew up in Southern California and currently resides in Tarzana, California.
Highly promiscuous as a teen, Pierce lost his virginity in the window of his girlfriend's house, "Because I wasn't allowed inside."
Some of the most daring sex experienced by the hulking actor includes copulating on the 50-yard line and on his motorcycle behind a building.
Pierce has also tried bungee jumping and spun a 180 on his motorcycle. His biggest fear is snakes.
An ex-girlfriend encouraged him to get into the business. Before that, Pierce aspired to achieve a career in Martial Arts.
Pierce's favorite reads include The 10x Rule by Grant Cardone, Rich Dad Poor Dad by Robert Kiyosaki and Sharon Lechter, and The Hunt For Red October by Tom Clancy.
His favorite movie is Biker Boys, "We're biker boys and we make our own rules."
His favorite position when filming on set is missionary and cowgirl. "I like to have leverage and I love to stare up at a woman while they ride me."
Pierce is recognized in public approximately half the time. His mother knows of and accepts his adult acting career.
Pierce has been arrested too often to list all the incidents.