Vote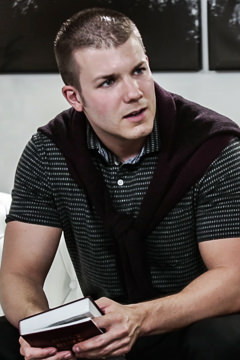 Codey Steele
Girls Way profile
Height : 5'10"
weight : 175
Eye Color : Blue
zodiac : Scorpio
hobbies : Gym, hiking, swimming
date of birth : 1988-10-26
twitter : https://twitter.com/codeyxxxsteele
Codey Steele's Biography :
Codey Steele, a Scorpio, was born and raised in Los Angeles, California in 1976. Growing up "very Mormon", he had "a lot of delinquent friends that helped keep him occupied". He had his first sexual experience with "a girlfriend at a brand new high school in a small town." He was the new guy in a small town "full of girls tired of seeing the same old guys. Branding himself "PROmiscuous" he says that he did well for himself in his new home. Prior to entering the biz he wanted a career in Aerospace engineering. Having an interest in the adult industry at a young age, he was the boy, growing up that who would always get naked for shits and giggles.. Despite his interest in porn he got decent job doing the 9-5 routine. His interest peaked again as he started looking into it using Twitter. He never messaged anyone, just looked around and eventually saw girls tweeting about a company in AZ. He emailed them and said he lived nearby and they gave him a shot. He started shooting scenes for them with no experience felt he wasn't learning much. After doing double duty with the day job and the 3 scenes he would shoot a month he then met the amazing Alison Rey, and started taking vacations to LA, and eventually just up rooted and moved here. His favorite film is Grandma's boy, but also loves horror movies especially when the protagonist loses, in the most gory way possible. When offset he enjoys the gym, cooking, traveling. Shooting a scene for PureTaboo was great for Codey as he enjoyed the "really great energy from Bree" and the whole rest of the crew, adding that with a happy fun atmosphere that really allowed for the best sex possible. Speaking on his thoughts regarding of Pure Taboo and how it could affect society and its viewers he believes people already have these types of thoughts, so to see them expressed in porn may help people explore their own wants and needs. For the other 60% of society that act like it's wrong or obscene, they may take it the wrong way but he thinks it will peak their curiosity as well. He believes that the viewer's know what they're getting in for so they'll be very happy with the end product. He's never been caught doing something taboo as everything he does was always consensual.