Vote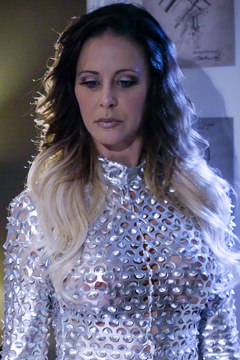 Cherie DeVille
Girls Way profile
Height : 5'5"
weight : 125
bust : 32DD
Hair Color : Blonde
Eye Color : Blue
zodiac : Virgo
hobbies : swing dancing, surfing, video games, running, playing with my dogs
date of birth : 1978-08-30
best known for : Being MILF-tastic
twitter : https://twitter.com/cheriedeville
Cherie DeVille's Biography :
Cherie DeVille was born in Durham NC and grew up in Washington, DC. Her current place of residence is Hollywood, CA. DeVille considers herself bisexual. Her innate lesbian tendencies led her to lose her virginity to a girl. Growing up, she was promiscuous with girls and prideful with boys. She lost her virginity to a boy later. Today, DeVille is a practicing Physical Therapist as well as an adult performer.
She first started in the business as a nude model in 2010. Lucky for DeVille, her agent discovered her online and when he invited her do porn, her answer was a resounding yes. On a scale of one to ten, DeVille rates her wildness factor off screen at an 8. She has spent considerable amounts of time at swingers' clubs, participated in several orgies and had sex outdoors. However, she considers herself a homebody 80 percent of the time, and a party girl for the remaining 20 percent. If trapped on an Island, the three items she would want are a generator, fuel and an Xbox.
Her favorite position when filming on set is Doggy because it shows off her nice booty. She is rarely recognized in public, but she loves her popularity and takes pride in her profession.
Her three favorite books of all time are Cat's Eye by Margret Atwood, Atlas Shrugged by Ayn Rand, and The Great Gatsby by F. Scott Fitzgerald. Her favorite movie is The Princess Bride. Her top three preoccupations in life when not filming on set are her partner, her dogs and her Xbox.