Pornstar Info
Vote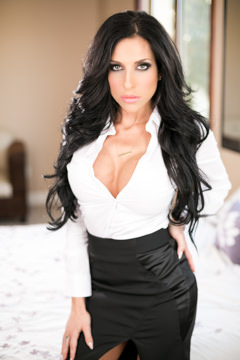 Videos with Jaclyn Taylor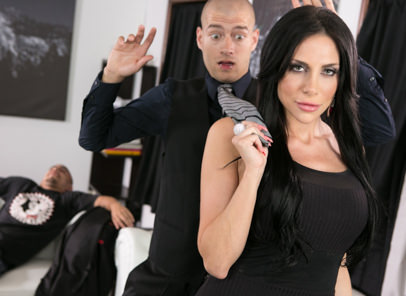 Date added:
07/31/2016
Rating:
Comments:
1
Description :
Horny housewife Jaclyn Taylor has the hots for her new butler, Xander Corvus. Unbeknownst to her husband and to Xander, with whom she's constantly flirting, she decides today is the day they're finally going to fuck. While her husband is watching the big game, she mixes his sleeping pills into his drink. After a few seconds he dozes off and then the fun begins! Xander is a little apprehensive at first, considering his boss is sitting in the room where he's about to fuck his wife. However, as Jaclyn begins sucking his hard cock, he quickly forgets that anyone else is in the room and enjoys the ride. Once his cock is wet with Jaclyn's mouth, he thrusts himself deep insider her wet pussy, moving together as she moans with pleasure. Jaclyn is so impressed with Xander, she can't help but look over at her sleeping husband and laugh while she's getting pounded by their big dicked butler.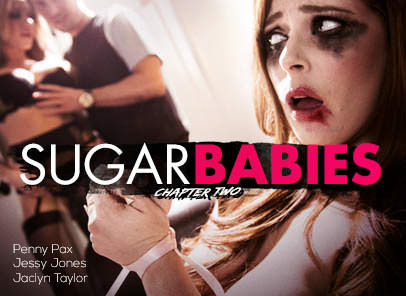 Date added:
05/06/2016
Rating:
Comments:
1
Description :
Previously on Sugar babies we saw Penny Pax turn from a depressed yet budding young beauty, who was starved for money to pay for school and life with her boyfriend Jessy Jones turn into a confused and jaded sugar baby by her new favorite couple James Deen and Chanel Preston, in order to help pay her bills and get ahead of the curve.

Often, it is those who take chance opportunities in life, and overcome the big hurdles that end up shining, and thrive in the levelling aftermath. Will Penny turn out to be among those powerful survivors?

Penny returns home to her confused and frustrated bf Jessy. He seems to feel sure that his advice was sound, and clearly expects to have the 'I told you so' moment. At every turn, he throws Penny's choices back in her face in the most subtile way, showing her that he wants to be a good supportive boyfriend. He knows he has to be there for her through everything, and says he supports her decisions but, his silent, cutting remarks show that he expects her to deal with her self-ruin all on her own, but for now, he'll play along.

Jessy pulls out a soft pink rope, and promises to get kinky, but not be crazy or nothing like that. Penny, clearly tired, plays along, and lets him tie her up. But, once everything is bound, he turns on a dime, and expresses how he feels about her being such a slut, and even makes her see the light by welcoming Jaclyn Taylor to the mix. Jaclyn tells Penny what she is, without a mention or acknowledgement for her true feelings. Jaclyn was in her shoes, and is determined, with Jessy's help to show her the slut she is.

Jaclyn starts to fuck Jessy right in front of Penny, taking his huge cock into her warm hungry mouth, all while Penny screams, that what they're doing is wrong, and she never wanted to do what she did for pleasure. Jessy and Jaclyn don't stop. Jaclyn uses her warm throat to get Jessy rock hard. She shows Penny what Jessy likes, and then climbs on, to show her exactly how Jessy wants to be fucked by a real slut. She pounds her ass down on his massive cock like she can't get enough. She lies back over Penny to let Jessy fuck her as close as possible before making Jessy cum on Penny's face. A perfect white facial to match her clear stream of tears.
Categories :
Blonde
,
Redhead
,
Piercings
,
Big Tits
,
Hardcore
,
Threesome
,
Natural Tits
,
Pussy to mouth
,
Blowjob
,
Deepthroat
,
Open Mouth Facial
,
Ass
,
Femdom
,
Fetish
,
Lingerie

Pictures with Jaclyn Taylor

Rating:
Comments:
0
Date added:
07/31/2016

Rating:
Comments:
0
Date added:
05/06/2016

Rating:
Comments:
0
Date added:
05/06/2016