Pornstar Info
Vote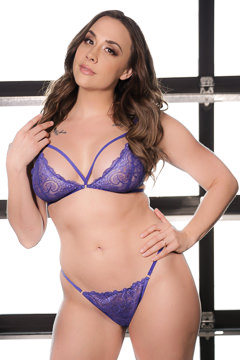 Videos with Chanel Preston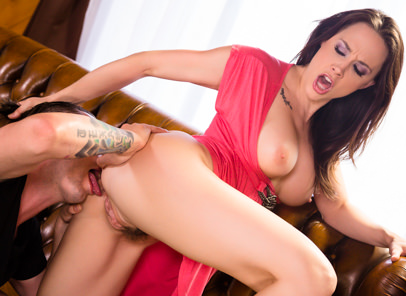 Date added:
08/17/2016
Rating:
Comments:
0
Description :
By promising lavish trips to Hawaii and expensive new cars, Ike Diezel dupes gold digger Chanel Preston into fucking the dickens out of his dick. But when she realizes her sugar daddy is actually a penniless scrub pretending to be rich, she seeks revenge for fucking that loser for nothing. To get back at the poor fucking bastard, she makes him lick her feet with his mouth, and then she makes him lick her pussy until it quivers. She uses her mouth to shame him orally. And when she's done sucking the lying prick's dick, she uses her pussy to subject him to more sexual punishment. Straddling his dick with her dripping wet pussy, then taking the dick from behind, she really makes him work at worshiping her pussy. Mercifully, she keeps pussy fucking his dick until it sprays a huge load of cum all over her pretty face. And by the way, she's still going to need that fucking car.
Categories :
Brunette
,
Big Tits
,
Hardcore
,
Rim Job
,
Fingering
,
Tattoos
,
Pussy Licking
,
Facial
,
Pussy to mouth
,
Blowjob
,
Deepthroat
,
Big Dick
,
Ass
,
Femdom
,
Fetish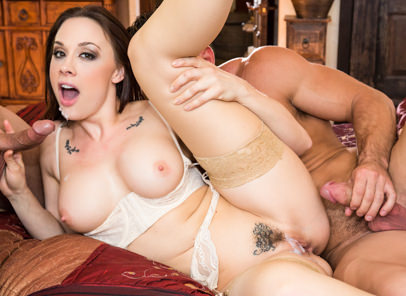 Date added:
07/08/2016
Rating:
Comments:
1
Description :
While Johnny Castle is on one of his routine runs through the neighborhood, he spots none other than his sexy Ex-Wife, Chanel Preston. After only spotting her from behind, neither Ex can get over how sexy the other looks. Chanel can't keep her eyes off Johnny's rock hard body, while Johnny can imagine grabbing Chanel's butt and eating her out from behind, like old times. With these fantasies in mind, Chanel invites Johnny for some dessert later that evening. This is an invitation that Johnny happily accepts. As day turns to night, Johnny arrives to Chanel's house, greeted with a text message from Chanel directing him into the house. Once inside, he hears moans only a true lover can recognize. As he follows the sounds, they lead to the Master Bedroom. As he opens the door, Chanel is seen knees bent, and bent over on the bed wearing the lingerie Johnny loved so much. Her new husband Ryan Driller thrusts his cock inside her. Johnny begins to feel himself growing hard, almost unable to contain himself at the exact moment when Chanel invites him to join them. Together the husbands take turns pleasuring one another until Chanel is a cum filled wife and both men are spent.
Categories :
Brunette
,
Big Tits
,
Hardcore
,
Threesome
,
Rim Job
,
MILF & Mature
,
Tattoos
,
Pussy Licking
,
Facesitting
,
Pussy to mouth
,
Blowjob
,
Deepthroat
,
Cumshot
,
Big Dick
,
Creampie
,
Ass
,
Lingerie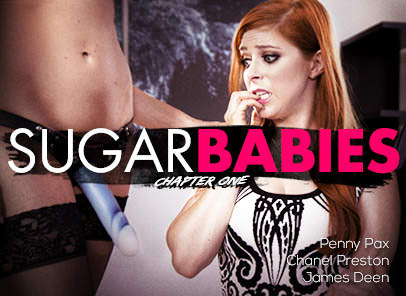 Date added:
04/22/2016
Rating:
Comments:
4
Description :
The life of a student can be tough. Either you have everything set for you to enjoy the four best years of your life, or you have to live day to day, hoping for a miracle around every turn. Life on top must be great, you have a place to live, and car to drive and food to eat. Taking things for granted, the upper crust often uses the lower classes as their toys, punishing them for their status, and only allowing them to be themselves behind closed doors.

Life on the bottom wrung is common, but in the land of sun and sand, an incredible journey of transformation is about to take place before our very eyes, and our story begins with Penny Pax, a nursing student, hellbent on getting her life together in any way possible. Her boyfriend Jesse Jones knows that things are tough, and he tries in earnest to sway Penny's decision away from becoming a sugar baby like her best friend Jade Nile. When Jessy walks out, frustrated that Penny would consider breaking them up over money, Penny sees she has no other option, and reaches out, in order to set her life on it's course once again.

James Deen and his wife Chanel Preston are waiting patiently for their new Sugar Baby. James invites Penny in for dinner. but before they can get too comfortable, the sounds of Jessy's texts interrupt. Hoping not to deprive his wife of dinner, James invites Chanel to join them in the living room. Penny is unsure what to expect, but knows that things will not be as easy as expected when Chanel shows up with a strap-on and James leaves his hand prints on Penny's big soft breasts. Penny begins to pant, showing her fear, yet submitting to the powerful couple's every will. Chanel makes sure Penny addresses him for what he is, her daddy.

Chanel holds open Penny's terrified face to welcome James' massive cock inside, filling her until she gags on him. Chanel doesn't like to see her empty, so when he pulls it out of her she fills her sweet little mouth with her fist, telling her to beg daddy for more. Next, Chanel climbs onto Penny's back, shoving her dildo inside of Penny, while taking James' cock deep inside her own pussy. soon, Chanel has Penny clean her ass, while having hers fucked in doggy. Finally, Penny rides Chanel's strap-on until James plunges his massive dick into Penny's asshole. They double penetrate her until James is ready to unload his spunk filled balls all over Penny's beautiful tainted face, plastering her allowance to his load on Penny's ever-grateful mouth.

To Be Continued...
Categories :
Brunette
,
Redhead
,
Big Tits
,
Girl on Girl
,
Hardcore
,
Threesome
,
Anal
,
Natural Tits
,
Rim Job
,
Strap-on
,
Facesitting
,
Blowjob
,
Deepthroat
,
Double Penetration
,
Open Mouth Facial
,
Femdom
,
Lingerie

Pictures with Chanel Preston