Pornstar Info
Vote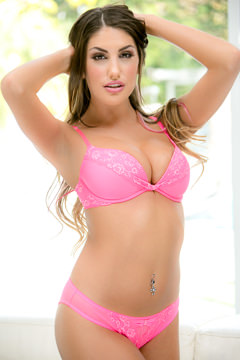 Videos with August Ames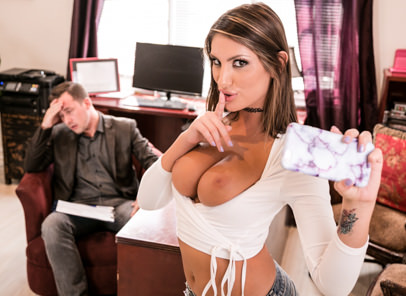 Date added:
02/03/2017
Rating:
Comments:
1
Description :
When devoted wife August Ames receives a sex tape of her husband cheating, she swears she'll get him back. Livid and hellbent on revenge, she goes to see her husband's golf partner, a plastic surgeon named Dr. Jessy Jones, to reconstruct her idea of marriage. Jessy wonders what's up when the natural beauty claims she wants her perfect tits redone. He's not buying her story and tries shoo her out of his office. But she insists he check her breasts. Maybe she has lumps. He doesn't have time for August's games but she begs him and tells him he's the only doctor she trusts. She starts taking off her bra and Jessy can't stop her in time. Once her tremendous tits are exposed, she implores him to feel them. She also asks him to feel her ass. She strips down to her birthday suit to show him her tits and her ass. Jessy thinks the whole situation is extremely unprofessional. She backs up into him and grinds her naked body into his growing erection. Her behavior is heated and unlike herself. Kneeling before him she swallows his dick and looks up at him with big brown eyes. He understands why she's here. If it's his cock she wants, he'll put it in her pussy. He fucks her wet pussy on the desk in the doctor's office. She rides him cowgirl while he's seated in his chair, his huge shaft disappearing in her pussy every time she drops. Her skin glistens with sweat as she rides her fine form up and down his dick. She cums hard on his cock as she satisfies him, taking his load in her face. What will her husband think about that?
Categories :
Brunette
,
Piercings
,
Big Tits
,
Tattoos
,
Pussy to mouth
,
Blowjob
,
Deepthroat
,
Open Mouth Facial
,
Titty Fuck
,
Big Dick
,
Ass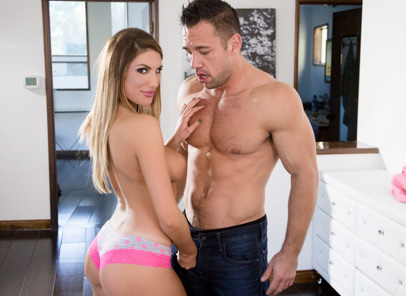 Date added:
04/29/2016
Rating:
Comments:
4
Description :
It's August Ames 18th birthday and her only wish is to have her cherry popped. Not only is she young, beautiful and the most popular girl at school she knows she's ready for her first sexual experience and to lose her virginity...but with who? Forget the vibrator she stole from her mom, August wants a hard cock to fill her virgin hole and who other than her big step brother Johnny Castle to fulfill her teenage fantasy!

Johnny walks into the house surprising August with her birthday gift, a pink onesie. August thanks her brother for the thoughtful present, but now that shes all grown up, wearing booty shorts and tight shirts is more her thing. August flaunts her bubbly ass in the air trying to get Johnny's attention but he quickly changes the subject by going upstairs and hitting the shower. August follows him upstairs, with a master plan to seduce her brother by any means necessary!

August unzips her onesie, showing her massive, perky big boobs knowing perfectly well that this isn't right. She persuades him into letting her touch his already erect cock under his underwear. When she wants to take things further they promise one another they will never tell mom and dad. Her pussy is so tight that she has a hard time putting his fat cock inside of her, but she slides it slowly inside herself and rides his hard shaft passionately, her pussy ripping apart as she cums all over his balls. She bends over on all fours as Johnny fucks her doggy style until he cannot hold it in any longer, busting a nut over his sister's sullied pussy!
Categories :
Brunette
,
Piercings
,
Big Tits
,
Hardcore
,
Tattoos
,
Pussy Licking
,
Family Roleplay
,
Blowjob
,
Deepthroat
,
Cumshot
,
Titty Fuck
,
Big Dick
,
Step Brother
,
Ass

Pictures with August Ames

Rating:
Comments:
0
Date added:
02/03/2017

Rating:
Comments:
0
Date added:
04/29/2016